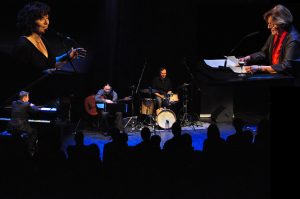 Jazz und Literatur
Sprache und Musik ergänzen und befruchten sich gegenseitig. Bei der Auswahl der Texte und der Musik arbeiten wir eng zusammen so dass der Bezug immer da ist. Daraus entwickeln sich eindringliche Stimmungsbilder und die Konzerte sind nicht nur für unser Publikum jedesmal ein Erlebnis.
Bei einem ersten gemeinsamen Projekt mit Schauspielerin Renate Kohn war sie ganz kurzfristig eingesprungen und ohne viel Erklärungen waren wir sofort  wie ein eingespieltes Team.
Die Renate liest leidenschaftlich gerne und die Musik von Gernot Ziegler (piano), Gernot Kögel (bass), Sebastian Säuberlich (drums) und mein Gesang harmonieren ganz wunderbar.
Im Moment gibt es zwei verschiedene Programme:
"Hunger und Liebe – Der Blues von Billie Holiday"   und
"First Lady of Jazz – The Ella Fitzgerald Centenial"
Ella Fitzgerald: Für die einen war sie die "First Lady of Jazz", für die anderen die "First Lady of Song". Denn Ella Fitzgeralds Stimme war beides: ein improvisierendes Jazz-Instrument mit perfekter Time und Intonation – und die wahrhaftigste, menschlichste Verkörperung des Great American Songbook.
Am 25. April 2017 wäre sie 100 Jahre alt geworden.
Billie Holiday: Ihr Name steht als Codewort für den Jazz schlechthin, ihr Leben für die Übererfüllung fast all seiner Klischees. Sie ist wohl die Idealbesetzung für die tragische Heldin. "Hunger und Liebe". Alles, was ich bin und was ich vom Leben will lässt sich auf diese beiden Worte zurückführen", heißt es in ihrer Autobiographie, aus der die Renate Kohn an diesem Abend liest.

Die beiden Programme sind jeweils etwa 2 bis 2,5 Stunden
Aus dem Billie Holiday- Programm, Live: "But Beautiful"
Trailer Ella Fitzgerald- The Centenial

Trailer Billie Holiday – Hunger und Liebe

Hier gehts zu unserem Booking-Info,  Technical Rider  und einer Ankündigung für das Ella-Programm.
Foto zum download hier